Your partner in rehabilitation and lifelong wellness
About Us
Doug and Lisa opened Sports & Wellness Physical Therapy in 1999. Originally located in Santa Maria, they moved their office to San Luis Obispo in 2010. We are a small, family-owned business that prides ourselves on serving the people of the Central Coast well and providing a physical therapy practice where all people feel safe and comfortable. At SWPT you will become part of a community that cares.
Our Staff
Douglas B. Johnson
Physical Therapist
With over 25 years in practice as a licensed physical therapist and a fitness trainer, Doug brings a wealth of knowledge and experience as the owner of SWPT. His philosophy centers on tailoring a therapeutic program to meet each patient's unique needs and goals, one that will support them in their everyday activities. With a background in athletics and fitness, Doug understands the importance of exercise and a healthful lifestyle to a patient's overall well-being. He will work with you to achieve and sustain your optimum health.
Lisa Story
Health Coach
Health education and wellness have been Lisa's professional focus and personal passion for over 20 years. She will work with you to explore your overall health and to identify your goals and areas for improvement. As you work with Lisa, you will gain a deeper understanding of the lifestyle and nutrition choices that work best for you, and will learn the habits and practices that will support your optimum health. Lisa's mission is to help you experience more energy, vitality, and contentment so you can enjoy the most fulfilling life possible.
Our Services
Sports and Wellness Physical Therapy provides personalized, highly-skilled physical therapy services and professional, informative wellness services in an encouraging and supportive environment. We want you to feel relaxed and comfortable at our office, and look forward to working with you to foster your wellness and recovery from injury or illness.
Physical Therapy Services &
Specialties
Orthopedics
Post-surgical rehabilitation
Total joint rehabilitation
Neurological disorders
Back and neck care
Balance
Pelvic health
Personalized home programs
Work-related injuries
Strengthening programs
Sports rehabilitation
Functional assessments
Corrective exercises
K-tape
Athlete for Life
Wellness Program
At Sports and Wellness Physical Therapy, we firmly believe that everyone is an Athlete for Life. Our daily tasks and activities require our bodies to cooperate so we can function in our lives. Therefore, we must nurture our bodies so they can support us in functioning optimally. Our Athlete for Life wellness program can help you to improve strength, endurance, balance, and mobility, perform your work and leisure activities more effectively and free of pain, enjoy outdoor activities and an active lifestyle, eat more healthfully, sleep better, and have more energy.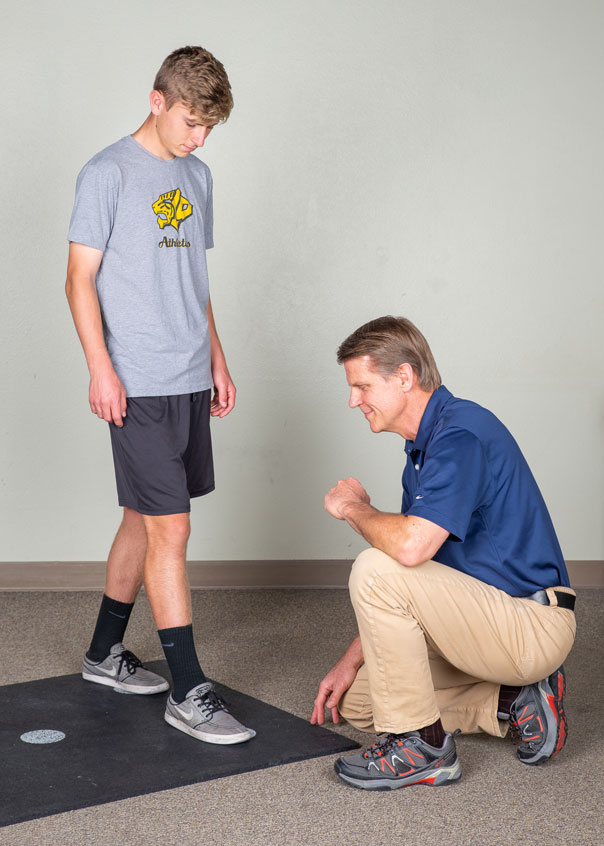 Testimonials
"It has been an unfortunate reality that I've experienced many PT locations over the past 5 years. I can say with confidence that SWPT was by far the most impressive in terms of detailed care and attention to progressive recovery. Doug went above and beyond to make sure that I was getting stronger and moving properly. 1 year ago I was in a full-torso body brace every waking hour and this July I'll be climbing Mt. Whitney without a concern. At SWPT you'll get the attention you need. Thank you, Doug and team! I'm forever grateful."
– Connor B.
"At SWPT, I was treated with a great deal of respect and concern. My physical therapist, Doug, answered all of my questions. Michele, the PT Aide, was helpful and knowledgeable. The most important gift to me was their constant encouragement and emotional support. I have been getting better every day and am almost back to normal. My husband and I will use them again if the need ever arises."
– Wendy G.
"I had trouble with my hip, and right after my first treatment with Doug it felt better. After two visits and following his instructions for a couple of weeks it resolved. I sure miss going as he has such a nice 'bedside' manner."
– E.S.G.
"I'd like to express my gratitude for the high quality of service you have provided me. Your reliability and great attitude are so appreciated. As I have mentioned before, I am an "expert in the field of receiving physical therapy" due to my previous 14 surgeries. I am so impressed with your knowledge. You have helped me more than all my previous physical therapists combined. You have pushed me, but not to the limit. You have been compassionate and understanding. I appreciate your professionalism and expertise in new ways to help with my recovery. Again, please accept my heartfelt thanks and gratitude, and know that I will definitely recommend you to anyone who needs exceptional physical therapy care."
– Pamela M.
"Just want to thank you for the six weeks of help. Everyone is amazed at how well I am doing. I think your expert direction is responsible for it. You were fun to work with and I appreciate your being on time and keeping me informed of appointment times."
– Pat M.
"Doug was my therapist after my first knee replacement, and I didn't hesitate to call him after my second knee was replaced. With his help I regained my range of motion fairly easily, and was able to return to walking and exercising comfortably after six weeks. I am very grateful for Doug's help and guidance."
– Dean D.
"I have had physical therapy at several facilities here in SLO. Sports & Wellness Physical Therapy is by far the best. I highly recommend them."
– Bev A.
"Thanks to you, I have exercises I've done all through the pandemic. I've continued nearly every day with the back exercises you gave me last year, and recently I've added in some of the "lifetime" exercises you gave me way back in 2013 (lunges, squats, arms, shoulders). Because of this, I've continued to feel flexible and strong even though I haven't been going to the gym. I thought you'd like to know what a good effect you had on me.
Thank you so much."
– Marty N.